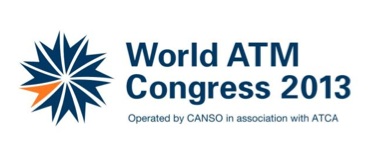 Congreso mundial de gestión del tráfico aéreo en Madrid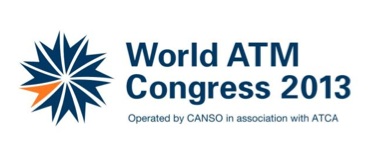 El próximo 12 de febrero tendrá lugar en IFEMA el Congreso Mundial ATM (Air Traffic Management), organizado por CANSO y ATCA. Combina una gran exposición, conferencias, eventos sociales y la oportunidad de conocer las últimas tendencias y avances en el control del tráfico aéreo.
http://www.youtube.com/watch?v=CTlw2pmwaUA
PROGRAMA
TUESDAY 12 FEBRUARY 2013
10.00 – 10.15
World ATM Congress Opening Ceremony – World ATM Congress Exhibit Hall
10.15 – 10.45        
Official Conference Opening
Peter F. Dumont, President and CEO, Air Traffic Control Association
Jeff Poole, Director General, Civil Air Navigation Services Organisation
José Manuel Vargas, President, Aena
Ignacio González Sánchez, Director Air Navigation, Aena
10.45 – 11.15
Keynote Address 
Roberto Kobeh-González, President of the Council, ICAO
Towards a Transformed ATM Environment – Working Together 
11.15 – 12.30 
Session One: The Aviation Industry Leadership Forum Reality Check – What our stakeholders need from a transformed ATM system and how we get there together. 
Collaboration is more than telling others your requirements. It needs a common sense of purpose. What does a preferred ATM partner look like? What do we need from each other?
Nancy Graham
, Director of the Air Navigation Bureau, ICAO
Tony Tyler
, Director General and CEO, IATA
Paul Riemens
, CEO, LVNL, and Chairman of the Executive Board, CANSO 
Nicholas E. Calio
, President and Chief Executive, Airlines for America (A4A)
Angela Gittens, Director General, ACI World
12.30 – 14.00
Lunch Break & World ATM Congress Exhibition
14.00 – 14.30
The View from Europe 
Towards a Transformed ATM Environment – The View from Europe  
Matthew Baldwin, Director of Air Aviation and International Transport Policy in DG Transport and Mobility (MOVE), European Commission
14.30 – 15.00
The View from America
Towards a Transformed ATM Environment – The View from America  
The Honorable Michael Huerta, Acting Administrator, Federal Aviation Administration
15.00 – 15.30
Networking Break
15.30 – 17.00
Session Two: Delivering ATM Reality – Effective Implementation of New Technology
The single most important breakthrough in aviation in the last 20 years was ETOPS. It took almost a decade to be approved for commercial operations. What can we learn from this? Research and innovation is only helpful once it is implemented. To achieve this we need to clear a number of regulatory and safety hurdles. Do we know what they are and what to expect? Are we doing anything to avoid a decade of delay?
Patrick Ky, Executive Director, SESAR JU
Daniel Weder, CEO, skyguide, and Chairman, FABEC
Alexis Brathwaite, President & CEO, IFATCA
Patrick Goudou, Executive Director, EASA 
17.00 – 17.15
Closing of Day
Peter F. Dumont, President and CEO, ATCA
17.30 – 19.30
Reception & World ATM Congress Exhibition
WEDNESDAY 13 FEBRUARY 2013 
10.15 – 10.45                                    
The View from EUROCONTROL
Towards a Transformed ATM Environment – the View from EUROCONTROL
Frank Brenner, Director General, EUROCONTROL
10.45 – 12.00 
Session Three: Taking Control of the New Reality – Delivering Complex Projects 
Projects like SESAR and NextGen are large and complex. Are we ready to deliver them? What does it take to deliver a complex project? How do we address governance issues, barriers, and resistance to change?
Learn from experts who have delivered major projects; what it means, what it takes. This session will draw out the lessons that we can learn from experts in other industries. 
Steve Fulton, Technical Fellow, GE Aviation
Pierre Bonnal, Senior Project Engineer, CERN 
Todd W. Zarfos, Vice President of Engineering for Commercial Aviation Services & Senior Chief Engineer of Support,
Boeing Commercial Airplanes
12.00 – 12.30
Networking Break
12.30 – 13.00
Guest Speaker: What Football Can Teach Us About Dealing with Change 
William Gaillard
, Senior Advisor to the UEFA President, UEFA
Football is struggling with the introduction of new technology, mobility of labour, and sovereignty. Sound familiar?
13.00 – 13.30 
Regulation; Liberalisation; Performance DeliveryAngel Luis Arias Serrano
, Director General of Civil Aviation of Spain, Ministry of Public Works and Transport, Spain
13.30 – 15.00 
Lunch Break & World ATM Congress Exhibition
15.00 – 16.15
Session Four: ANSP Cooperation – Performance and Delivery: Myth or Reality?
What does ANSP cooperation mean, and equally importantly, what does it not mean? Are there new business models that will depend on cooperation to deliver superior performance? If so, how will they be structured? What are the costs and benefits of such cooperation?
Jeff Poole, Director General, CANSO
Micilia Albertus-Verboom, Director General, DC-ANSP 
John Crichton, President & Chief Executive Officer, NAV CANADA
Eamonn Brennan, Chief Executive, Irish Aviation Authority
Bob Poole, Director of Transportation Studies, Reason Foundation
16.15 – 16.45

Networking Break
16.45 – 18.00 
Session Five: The New ATM Reality – If it were up to you, what would ATM look like in 2033?
The ATM industry is undergoing change in unprecedented ways. Where will it lead us? What will our industry look like in 20 years and how will we get there? Can we shape our destiny or will our future be dictated to us? The panel has been asked to bring their vision of our future to a free-ranging conversation.
Neil Planzer, Chairman-Elect, ATCA, and Executive Board, CANSO 
Todd Donovan, President, Thales ATM Inc.
Klaus-Dieter Scheurle, Chairman and CEO, DFS Deutsche Flugsicherung GmbH
Marc Hamy, Chief Operating Officer, Airbus ProSky
Ed Sims, Chief Executive Officer, Airways New Zealand
Ramón Tarrech, ATM Vice President, Indra Sistemas 
18.00 – 18.15
Conference Conclusions & Way Forward
Jeff Poole, Director General, CANSO